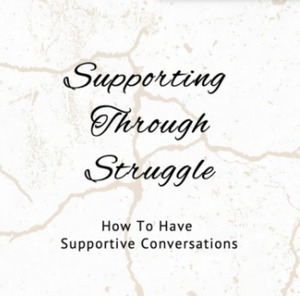 Led from a place of lived experience, we take a deeper dive into how to have conversations in a way that supports the other person, while still considering your own self care. This interactive live online workshop strengthens your ability to support someone who may be struggling with a mental health challenge and or addiction - socially, emotionally, and practically. A participative approach using practical conversational learning to engage all participants is used. Includes hands on activities, in depth conversations, story-telling, experiential learning and self reflection.
June 23rd - 25th, 2020
1:00pm - 3:30 pm EST
Delivered online via Zoom
*Zoom instructions and PDF workshop journal will be sent prior to start date*
Anyone can benefit from this course. From psychological health and safety in the workplace to schools and community groups to friendships and families, this workshop is designed to assist individuals who are looking to further develop their capabilities and confidence to support someone living with a mental health challenge.
*If cost is currently a barrier for you joining us, please reach out.*